Tina Jesenković nominated for prestigious Danish Robert Award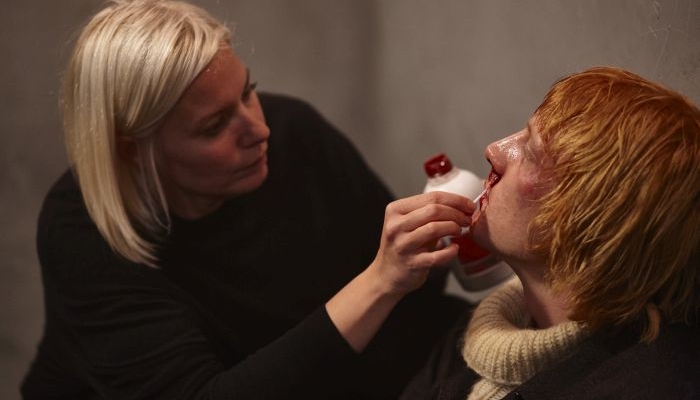 Tina Jasenković earned a Best Makeup nomination for her work in Itsi Bitsi, written and directed by Ole Christian Madsen. The film is a Danish-Croatian co-production. The annual Danish Robert Awards will be held on February 7th in Copenhagen.
Itsi Bitsi is a biopic about Eik Skaløe, a well-known Danish activist, poet and musician, set in the 1960s.
'I was surprised by the nomination. When I finally got over the shock I was elated, as if I had won. Actually, this nomination, for me, is just as good as winning. To be nominated in the same category alongside Morten Jacobsen, who taught me special effects makeup, well, it's fantastic!' said Tina and added that Itsi Bitsi is one of her favorite projects ever. She also said that the crew and production both in Croatia and Denmark were phenomenal.
'The makeup and the costumes in this film were very important. It was essential to precisely depict the 60s era, especially the time of rock'n'roll, as well as the aging process of all characters,' she concluded. Tina Jasenković studied at Westminster College in London where she continued to work as a makeup artist in commercials, videos and short films. She began her career in Croatia working on the film Tri muškarca Melite Žganjer (The Three Men of Melita Žganjer). She continued with the films Diana, The Odyssey, Fifth Butterfly, Simon Cudotvorac, The Lake, and Sve najbolje (All the Best). She also worked on shows like Rest in Peace, Odmori se, zaslužio si (Have a Break, You Earned It), and Novine (Newspaper). She also opened Media Make Up School in Zagreb in 2010.
The annual national Danish film prize Robert is awarded by the Danish Film Academy. The winners are decided solely by the Academy's members, and the prize recognizes the exceptional contribution a film or film professionals have made to the Danish film industry in the past year. The Robert was first awarded in 1984, and the prize is named after the Danish sculptor Robert Jacobsen who made it.
Cover photos: Tina Jesenković on the set of Itsi Bitsi (*Photo Credit: Nikola Predović)