RE-ACT announces six selected projects in the third round of co-development funding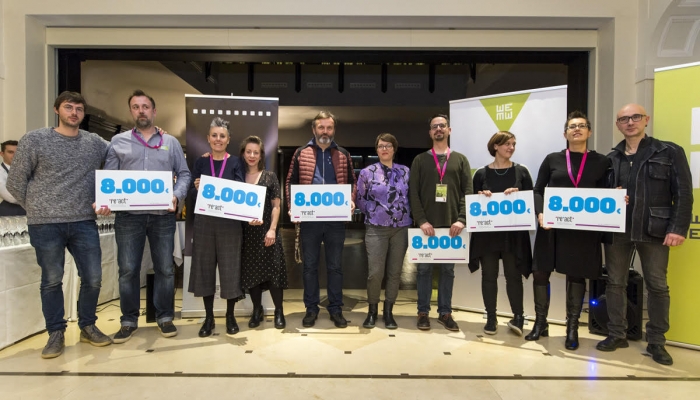 During a brief ceremony held in the framework of the annual When East Meets West Co-production Forum in Trieste, the representatives of Croatian Audiovisual Centre, Friuli Venezia Giulia Audiovisual Fund and Slovenian Film Centre, the partner funds of the transregional audiovisual cooperation and training initiative RE–ACT set up in 2015, announced a selection of six projects, recipients of the third round of RE–ACT co-development funding support.
Six projects in question, awarded 8,000 Euros each, were chosen out of 22 applications in total, by the Programme Council of the RE–ACT, in consultation with two renowned European film experts: Katerina Kaklamani and Martichka Bozhilova, for fiction/animation and documentary projects respectively.
List of selected projects:
1. Fiume o morte!, documentary; writer: Igor Bezinović, director: Igor Bezinović, delegate producer: Tibor Keser, production: Restart (Croatia), co-production: Nosorogi (Slovenia), La bete (France)
2. Inventory, fiction; writer: Darko Sinko, director: Darko Sinko, delegate producer: Vlado Bulajić, production: December (Slovenia), co-production: Hulahop (Croatia)
3. Steakhouse, animation; writer: Gregor Zorc, director: Špela Čadež, delegate producer: Tina Smrekar production: Finta (Slovenia), co-production: Bonobostudio (Croatia), Fabian&Fred (Germany)
4. Small Body, fiction; writers: Marco Borromei, Elisa Dondi, Laura Samani, director: Laura Samani, delegate producer: Nadia Trevisan, production: Nefertiti (Italy), co-production: Vertigo (Slovenia)
5. Young Tesla and the Idea of Poachers, fiction; writers: Petar Orešković, Vanja Obad, director: Petar Orešković, delegate producer: Siniša Juričić, production: Jaako dobra produkcija / Nukleus (Croatia), co-production: Nukleus (Slovenia), Dor flm (Austria), This and That Productions (Serbia), Lemming Film (Netherlands)
6. The Angel in the Wall, fiction; writers: Lorenzo Bianchini, Fabrizio Bozzetti, Michela Bianchini, director: Lorenzo Bianchini, delegate producer: Samantha Faccio, production: Tucker Film (Italy), co-production: Bela film (Slovenia), Ici Et La Productions (France)
RE–ACT co-development funding scheme which can support up to six projects per year is intended for feature-length fiction, documentary, animation and experimental projects, as well as short animation projects in advanced stages of development, and is aimed at filmmakers and producers from the territories of the partner funds who wish to co-develop projects together and foster closer professional ties in between Croatia, Friuli Venezia Giulia (IT) and Slovenia.