Project Cinema under Siege by Srđan Šarenac awarded at Sunny Side of the Doc market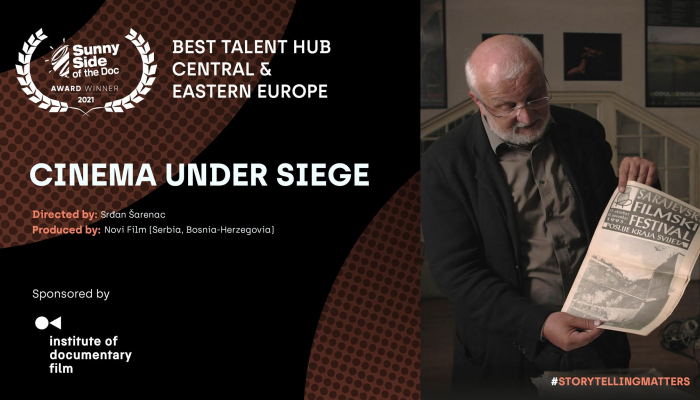 Director Srđan Šarenac's documentary film project Cinema under Siege won the award at co-production market Sunny Side of the Doc, this year taking place online, 21st – 24th June, though the market normally takes place in the French city of La Rochelle.
Cinema under Siege directed by Srđan Šarenac won the award sponsored by the Institute of Documentary Film for best project in the section Talent Hub Central & Eastern Europe.
The best project was chosen by a jury comprised of Margje De Koning, Rebecca Houzel and Markéta Štinglová.
The film portrays a group of artists who organized the first Sarajevo Film Festival, during the siege of Sarajevo in 1993.
"I wanted the film to be an inspiration to other people who find themselves in war zones, and to show that with the help of culture and film, it is easier to survive the horrors of war, the same way we survived the siege of Sarajevo. The film is a dedication to brave artists, headed by Haris Pašović, who, in 1993, in the midst of war, organized the first edition of the Sarajevo Film Festival," said director Srđan Šarenac.
Cinema under Siege is an Udruženje Novi Film (BA), Metar60 (HR), Novi Film (RS), and Al Jazeera Balkans (BA) production. Croatian co-producer is Mirta Puhlovski.
Sunny Side of the Doc is an international market devoted to documentaries and narrative experiences, held annually at La Rochelle, France.
Offering year-round activities, the programme is a unique space for film professionals to collaborate and share the diversity of their striking stories with the world.
This year's 32nd edition was held online, 21st to 24th June, with different sections spanning over 70 projects hailing from 22 countries – from Estonia in the north and Poland in the west, to Azerbaijan in the east and Bulgaria in the south.
Srđan Šarenac is a member of the Croatian Film Directors' Guild. He co-produced and directed the documentary feature, Village Without Women (2010), which premiered in the official competition at IDFA and subsequently toured 80 other festivals, winning 14 awards and being distributed in 50 countries. The Road Movie (2016), the documentary which he co-produced, again premiered at IDFA in the First Appearance competition and screened at 80 film festivals, including Hot Docs and True/False Film Festival, winning three awards. The film also qualified for an Oscar nomination in the Documentary Feature category and it was distributed by Oscilloscope Laboratories at 80 cinemas around the world. In 2017, Šarenac directed and produced the film Two Schools, which screened at 30 festivals, winning three awards, followed by Bulgarian Dream in 2019.