Hedgehog's Home chasing 29th win at Sundance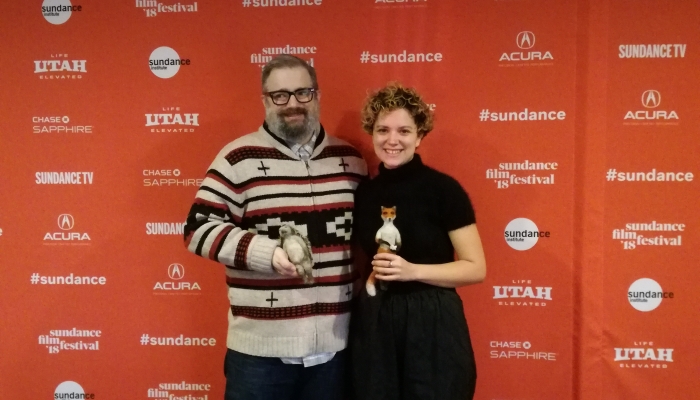 The Canadian-Croatian minority co-production screened on Sunday, January 21st, in the Short Preceding Features category. The screening in Park City was attended by writer and director Eva Cvijanović.
This animated fable inspired by Branko Ćopić's children's classic has, since premiering last year in Berlin where it won Special Mention in the Generation Kplus category, collected a fair number of prizes. To date, Hedgehog's Home has won 28 awards from around the world including festival awards from Annecy, Kyoto, Montreal and Animafest Zagreb, three Octavians, and an 'Annie' nomination – America's most prestigious animation awards whose ceremony will be held on February 3rd in Los Angeles.
The film screened at Sundance on Sunday, January 21st at the Prospector Square Theatre in Park City. The screening was attended by writer and director Eva Cvijanović and programmer Patrick Hubley, as well as the film's heroes, the Hedgehog and Fox puppets.
Hedgehog's Home is co-financed by the Croatian Audiovisual Centre, and is a co-production between Canada's NFB - National Film Board and Croatia's Bonobostudio. The producers are Jelena Popović (NFB) and Vanja Andrijević (Bonobostudio).
Members of the film's Croatian team include animator Ivana Bošnjak, director of photography Ivan Slipčević, 'Clean-Up' master Mario Kalogjera, editor Iva Kraljević and composer Darko Rundek.
The Sundance Film Festival was founded in 1978 by actor Robert Redford. This year's edition is taking place from January 18th to 28th. The festival will host more than 50 000 film professionals and enthusiasts. For more details please visit the Sundance Film Festival official website.
Cover photos: Eva Cvijanović and Patrick Hubley
(*Photo credit: HAVC)