HAVC and City of Split Sign Contract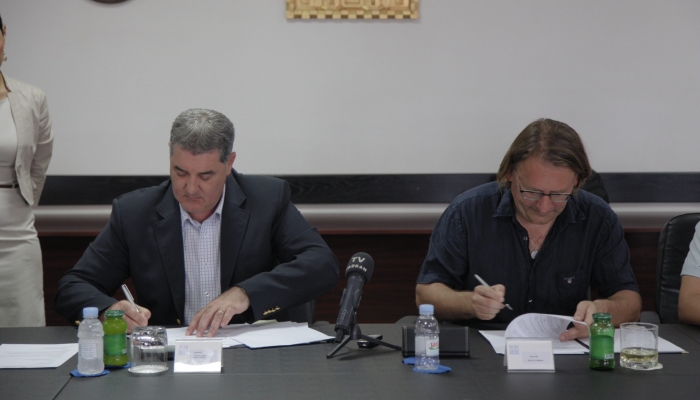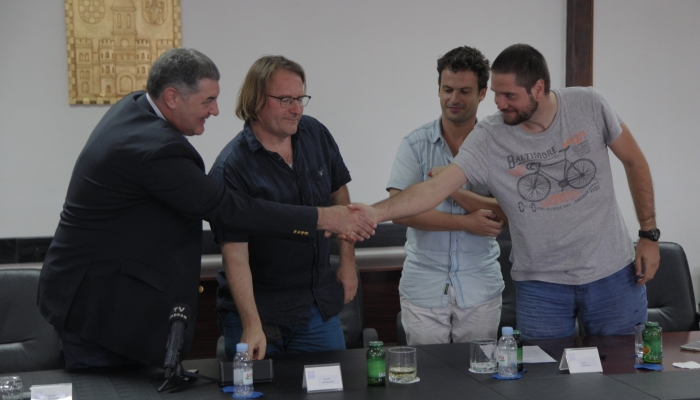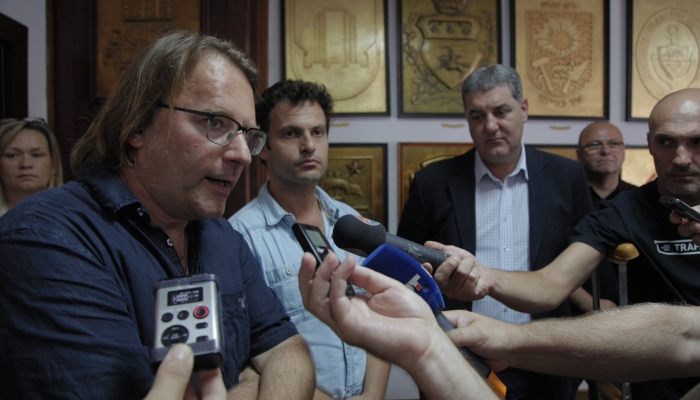 Split, 1 August 2014 – Mayor of Split, Ivo Baldasar, and Head of the Croatian Audiovisual Centre (HAVC), Hrvoje Hribar, signed a Contract on the Co-funding of a special programme in the field of audiovisual activities from 2014, and announced the establishment of a City of Split Cinema Fund.
The contract signed today is a continuation of a collaboration arranged in 2009, binding HAVC to invest the equal amount in the production of audiovisual works approved by the Split Council of Culture for Film and Media Activity as the City of Split. This contract will also serve as motivation to start the City of Split Cinema Fund.
'With the contract we sign today, HAVC is undertaking a financial obligation, but another thing we need to say is: Mr. Mayor, thank you, because this is a continuation of an important collaboration which came to a halt in the recent years. This collaboration between HAVC and the City is as important to Split as it is to Croatian cinema. On top of every kuna invested by the City of Split, to their own judgment, in the production of audiovisual works, HAVC will add another. This is how we open the door to talents coming from the Split Art Academy, stimulate the establishment of local production services in this magical city and strengthen an important branch of small entrepreneurship,' said Hrvoje Hribar.
'My thanks primarily goes to Mr. Hribar on the initiative and the first step towards a better future regarding local and Croatian cinema. We are aware that film is one of the most powerful media, and I hope this is how we will launch the renaissance of film activities, quite dormant in these areas, both in Dalmatia and Split. I believe this will definitely cheer people up and shoot a new impulse in our creativity,' added Mayor Baldasar, expressing his wish that the same people gather next year as well.
Split Mayor's counsellor for culture and science, Igor Baković, said that the Regulations of the City of Split Cinema Fund is currently being drafted and that the City hopes the Fund should participate at the next public call for city-funded cultural purposes.
The Head of HAVC took the opportunity to announce the filming of a new season of Game of Thrones in Diocletian's Palace, but also a possibility of filming another globally important serial produced by a large TV company on the streets of Split.
'With the national incentive system, our basic comparative advantage, strengthening local creative and production capacities might be our next possible benefit. We should support local production, and the contract we now sign leads to this,' said Hribar in conclusion.
The contract was signed in the presence of Igor Baković, Mayor's Counsellor for Science and Culture, Siniša Kuka, Head of the Office for Culture, Art and Old City Centre, and Veljko Popović, Chair of the Film Council.
Title photos: Ivo Baldasar, Hrvoje Hribar, Veljko Popović and Igor Baković
High resolution photographs can be downloaded here; all photographs by Tomislav Brdjanović.