2019 in film marked by success of female Croatian filmmakers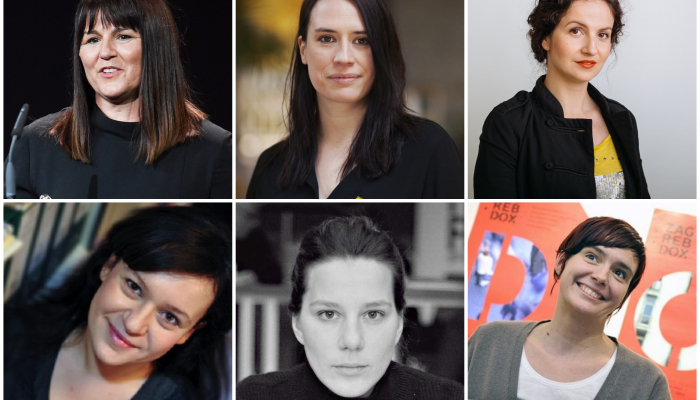 The year 2019 was marked by recognitions, both in Croatia and abroad, to female Croatian filmmakers. In addition, Croatian films have travelled to and won awards at the most prestigious festivals around the world.
The beginning of the year was successful for minority co-productions God Exists, Her Name Is Petrunija, by Macedonian director Teona Strugar Mitevska, and Stitches, by Serbian director Miroslav Terzić, both screening at Berlinale, one of the most important festivals in the world. Both films, co-produced by the company Spiritus Movens (Croatian producer is Zdenka Gold), had their world premieres at Berlin and each garnered two awards. The Macedonian-Belgian-Slovenian-Croatian-French co-production, God Exists, Her Name Is Petrunija, won the Ecumenical Jury Award and the Guild Film Prize, the latter awarded by a jury comprised of members of the German association of arthouse cinemas. Stitches, a Serbian-Slovenian-Croatian-Bosnian co-production, was awarded the prize for Best Film in the Panorama programme and was also the Panorama Audience Award runner-up. Numerous Croatian film workers worked on both of these films, while the two films were also long-listed for European Film Award nominations for Best European Film. In November, God Exists, Her Name Is Petrunija went on to win the 2019 LUX Prize awarded by the European Parliament.
In May, producer Anita Juka was selected to participate in the Producers on the Move platform, held during the prestigious Cannes Film Festival. In addition, Juka was one of only nine European producers who participated in the Asian Project Market, held as part of the Busan International Film Festival, where she also participated in the Entertainment Intellectual Property (E-IP) Market, a section of the festival's Asian Film Market. Juka concluded a very successfully year in a new role, becoming a member of the European Film Academy Board, a role she officially assumes this January.
The success of female Croatian filmmakers continued with producer Tamara Babun, in June selected to the Executive Committee of the International Federation of Film Producers Associations (FIAPF - Fédération Internationale des Associations de Producteurs de Films), to a term of two years. In July, both director Antoneta Alamat Kusijanović and director of photography Vanja Černjul were invited to become members of the US Academy of Motion Picture Arts and Sciences.
Also in July, however, director Dana Budisavljević triumphed at home, when her feature docu-fiction, The Diary of Diana B., won her the Golden Arena for Best Directing, becoming only the third woman in history to be crowned with these laurels and the second female director ever to win the Grand Golden Arena for Best Film. The film garnered a total of six awards at Pula, started its Croatian cinema run at the beginning of October and in November received the Best Debut Film Award at the FilmFestival Cottbus in Germany.
In September, a minority co-production, The Barefoot Emperor, a fiction feature directed by Peter Brosens and Jessica Woodworth (Croatian producers Boris T. Matić and Lana Matić, Propeler Film) had its world premiere at the Toronto International Film Festival, where yet another minority co-production had its North American premiere – animated film Toomas Beneath the Valley of the Wild Wolves, directed by Chintis Lundgren (Croatian producer Draško Ivezić, Adriatic Animation).
The Voice, Ognjen Sviličić's new feature film, had its world premiere at the aforementioned Busan International Film Festival, held in October, screening in the World Cinema programme, alongside The Son by B&H director Ines Tanović. A month later, in November, Mater, Jure Pavlović's fiction feature premiered at the 2019 Tallinn Black Nights Film Festival, which screened as many as seven other Croatian titles.
In October, the Croatian cinematic production featured prominently at one of the oldest and most renowned film festivals – DOK Leipzig. As part of its Country Focus section, 11 Croatian films were screened in a curated programme under the moniker A flourishing documentary film scene in a country full of contradictions. In addition, two Croatian titles were screened in the festival's competition programmes.
In 2019, Croatian films also travelled to festivals in Clermont-Ferrand, Oberhausen, Annecy, Karlovy Vary, Lisbon, Sarajevo, Belgrade, Thessaloniki, Warsaw, Los Angeles, New York and elsewhere.
The celebrated international festival of short film held in February in the French city of Clermont-Ferrand saw screenings of three Croatian animated films, while the International Short Film Festival Oberhausen, held in May, hosted the screenings of as many as six short films from Croatia, two of which were world premieres – Imbued Life, by Ivana Bošnjak and Thomas Johnson and Renata Poljak's Yet Another Departure. The following month, four Croatian animated films screened in competition at the Annecy International Animation Film Festival – one of the most famous and influential animation festivals in the world. In July, a Croatian minority co-production, Aga's House, directed by Kosovar director Lendita Zequiraj (Croatian producer is Wolf Films) came away victorious from the 54th Karlovy Vary International Film Festival, taking home the Federation of Film Critics of Europe and the Mediterranean (FEDORA) jury Special Mention. The festival summer continued with one of the region's festival heavyweights, Sarajevo Film Festival, held in August, which saw world premieres of the medium-length documentary by Višnja Skorin, If Only Dreams Came True, a minority co-production fiction feature, The Son, by Ines Tanović (Croatian producer Zdenka Gold, Spiritus Movens), Slađana Lučić's feature documentary Little Star Rising, as well as short student films by Filip Mojzeš, Elephant´s Graveyard, and Damir Markovina, The Shift.
In October, Vinko Brešan's black comedy What a Country! screened in competition at the Warsaw Film Festival, while a month later, the film won the Audience Award at the Thessaloniki International Film Festival. The Cairo International Film Festival, held in November, screened three minority co-productions, The Barefoot Emperor, Stitches and God Exists, Her Name Is Petrunija (the latter of which won the Arab Critics' Award for European Film, awarded by film critics from 13 Arab countries). In December, a feature length documentary minority co-production by Serbian director Marija Stojnić (Croatian co-producers are Vanja Jamborvić and Tibor Keser, Restart) - Speak So I Can See You had its world premiere at the 32nd International Documentary Film Festival in Amsterdam (IDFA).
In addition to the abovementioned, several other films garnered generous accolades at international festivals. For example, Barbara Vekarić's feature debut, Aleksi, scooped 15 awards at ten festivals around the world, just in 2019, of which the last was held in India, while the short animated film by Ivana Bošnjak and Thomas Johnson, Imbued Life, won its 11th award in November, at the Exground Film Festival held in Wiesbaden.
Also in November, Croatian producer Ankica Jurić Tilić received a prominent recognition, the Eurimages Co-Production Award 2019, which acknowledges the decisive role of co-productions in fostering international exchange. Jurić Tilić was awarded this recognition in early December at the European Film Awards in Berlin.
In late 2019, it was announced that film manager and selector of numerous film festivals and MUBI director of acquisitions, a Croatian from Pula living in London, Vanja Kaluđerčić would take over as the new Director of the International Film Festival Rotterdam. In addition, a long-time HAVC officer and Head of the Department of Film Production and Complementary Activities, Jadranka Hrga received the Albert Kapović Award, awarded by the Croatian Producers Association for outstanding contribution to the development and promotion of Croatian film, at the 17th Zagreb Film Festival opening ceremony.
In addition to films and filmmakers, for the Croatian film industry, 2019 was marked by events such as the appointment of the new Chief Executive Officer of the Croatian Audiovisual Centre, Christopher Peter Marcich in April; the closing down of cinema Europa in May, and the action 'Meni se to gleda – HRT ne da,' (I want to see it, but the Croatian national TV won't let me!), initiated in July by the Croatian Film Directors' Guild, as a reaction to the fact that the Croatian Radiotelevision rejected more than 30 Croatian films in a public call for applications. After three months, the campaign resulted in a topical session of the Parliamentary Committee on Information, Computerisation and the Media, with the participation of members of the Croatian Film Directors' Guild, Croatian Film Workers' Association (HDFD), Croatian Producers Association (HRUP), Croatian Audiovisual Centre (HAVC), and members of the Croatian Radiotelevision. The assembly did not meet the quorum, so a new meeting is scheduled for January of 2020.
In 2019, several prominent figures from the world of film passed away, such as film producers Branko Lustig and Boris Dmitrović, actors Ivo Gregurević, Martin Sagner, Aleksandar Bogdanović and Robert Budak, director Matija Vukšić, cinematographer Andrija Pivčević, independent film author Krunoslav Heidler, economist and member of the Managing Board of the Croatian Audiovisual Centre Anto Bajo, director and animation artist Milan Blažeković and playwright, scriptwriter and editor Zora Dirnbach.
Numerous Croatian titles had successful runs at local cinemas during 2019, therefore, we will publish a detailed analysis of their box office gross in mid-January.
Cover photos: Ankica Jurić Tilić, Vanja Kaluđerčić, Anita Juka, Tamara Babun, Antoneta Alamat Kusijanović, Dana Budisavljević; scenes from the films The Diary of Diana B, God Exists, Her Name Is Petrunija, Aleksi, Imbued Life
(*photograph of Ankica Jurić Tilić: Britta Pedersen/DPA/PIXSELL)