69th Berlin International Film Festival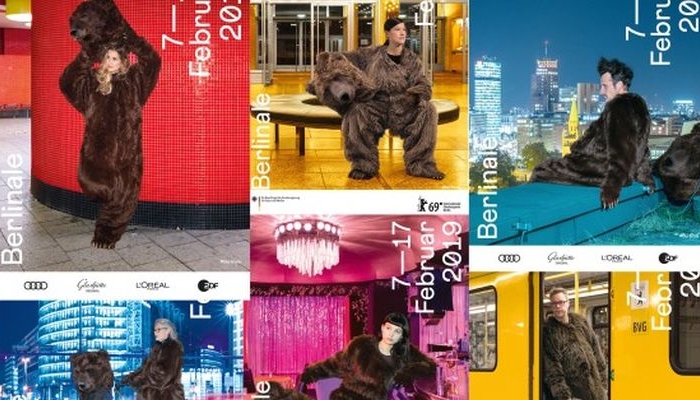 Feature films God Exists, Her Name is Petrunija and Stiches, both Croatian minority co-productions, will have their world premieres at the 69th Berlinale which takes place from February 7th to 17th, 2019. Also, Vanja Kaluđerić, originally from Pula and now living in London, is a member of this year's international short film competition jury.
Main Competition: God Exists, Her Name is Petrunija
Films selected into the main competition reflect current and future trends in filmmaking, while offering viewers a wealth of productions from around the globe. The selector of the main competition is the festival's director Deiter Kosslick, and festival winners receive Golden and Silver Bears.
The feature film God Exists, Her Name is Petrunija by Macedonian director Teona Strugar Mitevska, is a Macedonian-Belgian-Slovenian-Croatian-French co-production. Croatian co-producer is Zagreb's Spiritus Movens.
The film, which will have its world premiere at the Berlin International Film Festival, takes place in the town of Štip in eastern Macedonia where each January a local priest throws a wooden cross into the river, where then hundreds of men dive in to fish it out. The one who gets the cross is blessed with success and good fortune. This time though, a woman named Petrunija gets to the cross first. Her opponents are furious.
'On set we had two actors, Ljiljana Bogojević and Mario Knezović, while the creative-technical part of the crew included tone engineer Hrvoje Petek, boomer Vilim Novosel, key grip Josip Mataušić, set employee Branko Cavrić, electrician Dario Laljek, art director Željka Burić, and casting director Marina Redžepović. We also offered technical support with lighting equipment from Lav Rasvjeta. Shooting went smoothly even though the conditions were quite challenging considering the extremely low temperatures. I hope that the film will have its Croatian premiere at the Pula Film Festival, after which we would screen it at other local festivals and in cinemas at the end of the year,' Zdenka Gold, the Croatian co-producer, added.
Angela Schanelec's film I Was at Home, but will also have its world premiere in the main competition in Berlin. The film, a German-Serbian co-production (Nachmittagfilm and Dart Film & Video), was partially shot in Istria, in the town of Slum, and at Učka National Park. The Croatian team includes: executive producer Tibor Keser, tone recorder Hrvoje Radnić, and production assistant Jan Herenčić, while production services were provided by Paradoks (Zagreb). The film was supported by the Istrian Film Commission and Municipality of Lanišće. The film is about a 13 year-old boy who disappears for a week. After returning, the boy doesn't know, or doesn't want to say, where he was and what he was looking for. His mother and teachers assume that his flight was prompted by his father's death, but the boy's behaviour doesn't exactly support that theory…
It was also announced that Pula's Vanja Kaluđerčić, currently living in London, will be a short film competition jury member. Kaluđerčić is a film manager and selector at numerous festivals, and is currently the acquisitions director at the film streaming service and distributor MUBI.
Panorama: Stitches
The Berlinale's Panorama programme features new films by established directors, as well as debut films and discoveries, while the heart of the programme features films with a strong authorial vision. Films screening in this programme compete for eight prestigious awards, of which the Panorama Audience Award is one of the most significant – it is voted upon by more than 20 000 Berlinale visitors.
Miroslav Terzić's feature film Stitches is a Serbian-Slovenian-Croatian-Bosnian co-production. Croatian co-producer is also Spiritus Movens.
Stitches explores the theme of disappearing newborns from hospitals in Belgrade who were pronounced dead but were actually, according to hundreds of accounts, sold for adoption. The film's script is inspired by one mother's testimonial who believes her child was kidnapped. After years spent with local authorities and in courts trying to prove her suspicions, she believes that she finally, after searching and fighting for two decades, finally found her missing son – a 20 year-old man living with his new family near Belgrade.
The script is written by Elma Tataragić, and the cinematographer is Damjan Radovanović – known for his work in Vuk Ršumović's film No One's Child. The editor is Milena Z. Petrović, and music is by Aleksandra Kovač. The Croatian co-producer is Zdenka Gold (Spiritus Movens), while other members of the Croatian crew include art director Ana Buljan, Zoran Vujić, actress Ksenija Marinković, production assistant Branka Rušnov, and many others. The film is produced by Uliks Fehmiu and Milena Trobozić Garfield (West End Production) from Serbia, and received financial support from Eurimages. Stitches will have its world premiere in Berlin.
Croatian Audiovisual Centre at European Film Market (EFM)
Accompanying the festival is the European Film Market, EFM. The Croatian Audiovisual Centre will have its own booth in the Martin-Gropius-Bau Museum, where festival selectors, distributors and other film professionals will be able to receive information on contemporary Croatian cinematography. Furthermore, New Croatian Features & Shorts, a publication listing recent Croatian works of all types and genres, was published for promotional purposes.
The EFM will also organize market film screenings of Diary of Diana B. by Dana Budisavljević, My Grandpa Is an Alien by Marina Andrea Škop and Dražen Žarković and F20 by Arsen Anton Ostojić. The screenings are geared toward distributors, selectors, buyers and other film professionals.
The 69th Berlinale – International Film Festival will take place in Berlin from February 7th to 17th, 2018. For more information please visit the festival's official website.