Venice Film Market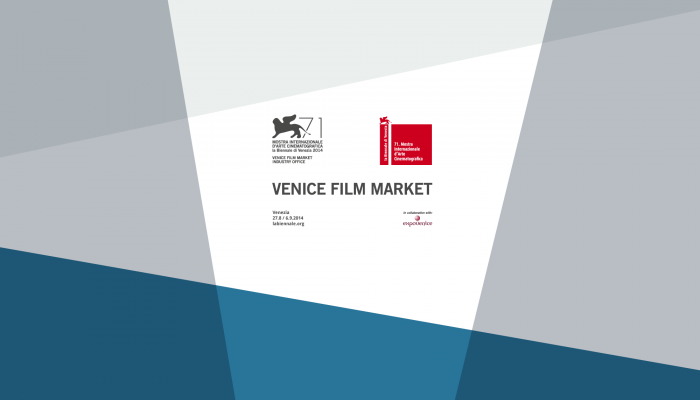 Meet Croatia at the Venice Film Market 2013
MEET CROATIA!
CROATIAN AUDIOVISUAL CENTRE
AND FILMMAKERS PRESENTING PROJECTS
AT VENICE FILM MARKET – INDUSTRY OFFICE,
IN COLLABORATION WITH MEDIA DESK ITALIA

The Croatian Audiovisual Centre has the pleasure of announcing its first participation and presentation at the Venice Film Market – Industry Office.
Sunday, September 1, 2013
11.00 – 13.00
Hotel Excelsior, Spazio Luce Cinecittà - Sala Tropicana
As the main film agency in the country, Croatian Audiovisual Centre invests significantly in minority co-productions: both with its traditional partners from the countries of former Yugoslavia and other neighbouring countries, and with new production partners from further afield.
The Centre will present its activities in further detail Industry Networking Event organized in collaboration with MEDIA Desk Italy, focusing on the recent admission of Croatia in the European Union and the subsequent possibilities of funding projects through our minority co-production scheme.
Following the Centre's introduction, there will be a presentation of 4 projects in development realized in co-production between Italy, Croatia and Slovenia:
THE THIN LINE, directors Paola Sangiovanni and Nina Mimica
Feature Documentary, Italy / Croatia
Croatian producer: Diana Mlađenović (Kinematograf)
Italian producers: Roberta Ballarini (DocuLab), Francesca Casaccia (Altreforme)
Project status: In production
* Supported by Croatian Audiovisual Centre
The Thin Line explores cause and effect of war rape, through the story of two former Italian soldiers, involved in acts of violence against civilians, during a peacekeeping mission; and the story of a woman, victim of violence in Bosnia, who rejects the silence of an entire community and tries to obtain justice, compensating the fragility of the law system, at her best. The film intends to explore also the reason behind war rape, highlighting some aspects of a system of patriarchy values, and the signs of this dreadful violence, through some unusual characters. The stories of Michele and Andrea and the story of Bakira belong to two different countries and two different political and cultural backgrounds. But they are sharing common grounds, whose sense, going from one story to the other, is revealed in its
bareness.
TIR, director Alberto Fasulo
Feature Documentary, Croatia / Italy
Croatian producer: Irena Marković (Focus Media)
Italian producers: Alberto Fasulo, Nadia Trevisan (Nefertiti)
Project phase: In post-production
* Supported by Croatian Audiovisual Centre
Branko, 50 years old teacher from Croatia has trouble providing for his family. That's why he decided to get a job as a truck driver for an Italian shipping company. He travels all over Europe with Maki, another more experienced Croatian driver. Maki teaches him about his new job that consists of many hours spent at the wheel or being stuck nowhere on the road. Together they spend long and endless days waiting for an order that never comes. While Branko is trying to cope with the new job, he is also trying to be present at least over the phone in the life of his family. He finds himself entangled in increasingly difficult situations at work, not only the long hours waiting, road blocks, or even the loneliness… it's the very nature of work itself that challenges his deepest values.
LIFE AS A COIN, director Franco Dipietro
Short Animated, Italy / Croatia
Croatian producers: Matija Radeljak (Aning Film)
Italian producer: Due Monete (Emanuela Barbano)
Project status: In post-production
* Supported by Croatian Audiovisual Centre
Dante is a 2 euro coin. He lives as all the other coins, moving from hand to hand, from pocket to pocket, all around European Countries. Dante knows that his life is perfectly set, he knows he can't decide about himself. He's a coin, his destiny is to bounce here and there with no control at all. But he feels that something in his life could change. Maybe, if he could find a place to hide, his life could take some other directions. A day Dante falls at the bottom of a lake. There, beneath the surface, he met Venere, a 10 cent coin. The life at the bottom of the lake is safe, warm and still. But a fish come to eat Dante, taking he back to his usual life. If you're a coin, you should know that you can't decide for yourself. That's the truth.
PERSEVERANCE, director Miha Knific
Feature Fiction, Slovenia / Croatia
Producer: Siniša Juričić (Nukleus film d.o.o.)
Project status: In production
* Supported by Slovenian Film Fund / Project submitted for funding to Croatian Audiovisual Centre
Perseverance consists of 15 stories inspired by true events and characters that span the world and the last 60 years. They are not formally connected, their narratives are separate but create a larger one. The stories cover the period from the past to the present day and are located around the world. Perseverance is a poetic travel through the collective memory of mankind and it tries to answer the questions of who we are, where we do come from and where are we going. Through intimate stories, the film describes the phenomenon of the human being, of the human race. We are faced with the miracle that has brought us to the top of the food chain, the miracle that created civilisations and helped us survive in the first place. Survive and persevere.
MEET CROATIA! brochure with additional information about above mentioned projects is available for viewing and downloading purposes on this link.
For more information please contact:
Tina Hajon, tina.hajon@havc.hr
Ivana Ivisic, ivana.ivisic@havc.hr