Kino Croatia: New Films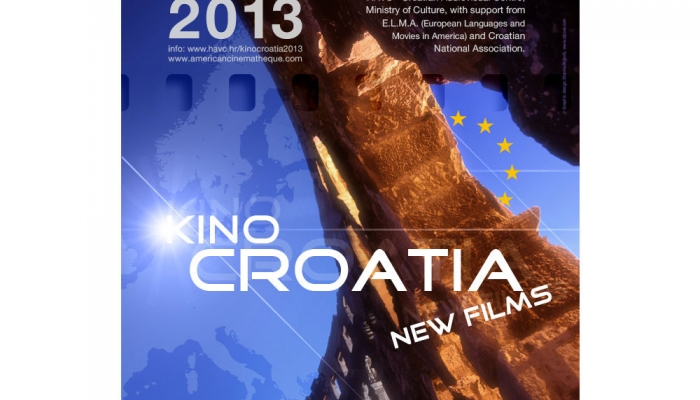 Kino Croatia: New Films 2013 June 21 – 23, 2013, at the Egyptian and Aero Theatres in Los Angeles!
This year Kino Croatia's series lineup includes first-time director Vlatka Vorkapić's charming romantic sparring match SONJA AND THE BULL, Branko Schmidt's chilling VEGETARIAN CANNIBAL, Tomislav Radić's acclaimed domestic drama KOTLOVINA, Dražen Žarković's hit family adventure THE MYSTERIOUS BOY and Igor Mirković's seniors-on-the-road comedy NIGHT BOATS.
Presented in collaboration with Consulate General of the Republic of Croatia in Los Angeles, Ministry of Foreign and European Affairs, HAVC - Croatian Audiovisual Centre, Ministry of Culture; with support from E.L.M.A. (European Languages and Movies in America) and Croatian National Association. Produced by Matko Brljević Malinger.
The first live pictures in Croatia were shown on October 8, 1896, just ten months after the art of cinema was born in Paris. The venue was a small theatre hall in the building that is now home to the Academy of Dramatic Arts in Zagreb. For generations within these walls, young Croatians learned the skills needed to become actors, directors or cinematographers on the short list of modern Central European masters.
Since the 1960s, Croatian cinema has combined a haunting, often savagely-bleak outcry against political and personal repression with humor, lyricism and a tenderness born of constant conflict and adversity. But it was little known before late 2000, when the American Cinematheque and CAMEO presented "Wednesdays In Croatia," the first comprehensive overview of Croatian cinema ever mounted on the West Coast.
Series compiled by Gwen Deglise and Matko Brljević Malinger.
AT THE EGYPTIAN:
Friday, June 21 – 7:30 PM / KINO CROATIA
Los Angeles Premiere!
SONJA AND THE BULL (SONJA I BIK), 2012, Interfilm / Croatian Radiotelevision, 106'
Dir. Vlatka Vorkapić
This romantic comedy, directed by first-timer Vlatka Vorkapić, is set in the world of bull fighting. An animal rights activist, Sonja (Judita Franković) is caught up in the battle to pass a bill making bull fighting illegal. Her work raises a red flag with a big-time fight organizer, who sends his insurance agent son (Goran Bogdan) to deal with the woman. A Croatian box office hit, SONJA AND THE BULL is a sexy and sweet look at tradition, differences and how opposites really do attract. In Croatian with English subtitles.
Q & A with dir. Vlatka Vorkapić.
Kino Croatia is celebrating Croatia's entry to the EU!
Kino Croatia 2013, as many other events throughout the World, is celebrating Croatia's joining of the European Union. In this spirit, Kino Croatia in association with ELMA, will present an exhibition of posters from European film festivals in LA. It will be held at the Egyptian Theatre, during the Opening Night, to recognize and honor the people and organizations that bring European films to Los Angeles.
Reception and after-party, with live entertainment and singers from various European countries, will follow the screening of Sonja And The Bull.
AT THE AERO:
Saturday, June 22 – 7:30 PM / KINO CROATIA
Double Feature:
NIGHT BOATS (NOĆNI BRODOVI), 2012, Studio Dim, 101'
Dir. Igor Mirković
This delightful comedy approaches old age with a sense of optimism and hope. Ana Karić (Best Actress winner at the Pula Film Festival) plays Helena and Radko Polić plays Jakov, both residents of a dull retirement facility. When they fall head over heels for each other, they decide to run away from the dreary rest home to explore a life of adventure and romance in this charming crowd-pleaser. In Croatian with English subtitles.
VEGETARIAN CANNIBAL (LJUDOŽDER VEGETARIJANAC), 2012, Telefilm, 91'
Dir. Branko Schmidt
The official Croatian submission for the 2013 Academy Awards, this dark drama stars Rene Bitorajac as Danko Babić, a corrupt gynecologist at a high-end fertility clinic. Like some of the movies' most notorious sociopaths, Babić masks his sinister side with innocent charm, doing whatever gets him more sex, power and money without regard for the suffering of others. An unflinching and unforgettable portrayal of a man utterly beyond redemption. In Croatian with English subtitles.

Q & A with the Night Boats dir. Igor Mirković, between the films.
Sunday, June 23 – 5:00 PM / KINO CROATIA
Double Feature:
US Premiere! THE MYSTERIOUS BOY (ZAGONETNI DJEČAK), 2013, Kinorama / HRT, 88'
Dir. Dražen Žarković
This hit family film succeeds both as a mystery and a coming-of-age tale. Fourteen-year old Koko (Antonio Parač) and his friends Tomo (Karlo Maloča) and Marijana (Vanja Markovinović) are intrigued by another student's strange behavior. Always up for an adventure, the three investigate - only to discover that their new classmate's secret is more disturbing than it initially appears. In Croatian with English subtitles.
US Premiere! KOTLOVINA, 2011, Korugva, 120'
Dir. Tomislav Radić
This family drama swept Croatia's Pula Film Festival, taking home awards for Best Film, Screenplay, Actress, and more. As three sisters and their families reunite for the first time in many years, tensions, unspoken hurts, and political and moral disagreements bubble to the surface. While this layered and thought-provoking film touches on angry moments of conflict, it gives equal time to the quieter moments when people manage to connect despite their differences. In Croatian with
English subtitles.
Kotlovina leads Melita Jurišić and/or Suzana Nikolić in person!
Warm-up for Kino Croatia
Kino Croatia 2013 Kick-off party is hosted by DOMA Restaurant (362 North Camden Drive, Beverly Hills) and co-sponsored by Grgich Hills Estate. It takes place on Sunday, June 02, from 5:00 – 7:00 PM, featuring LA premiere of COOKING FOR HOLLYWOOD. To find out why the LA Times film critic Kenneth Turan has called this 30 min. documentary "Irresistible…" and for more info on this and other Kino Croatia events, please go to Kino Croatia in LA on Facebook.