Clermont-Ferrand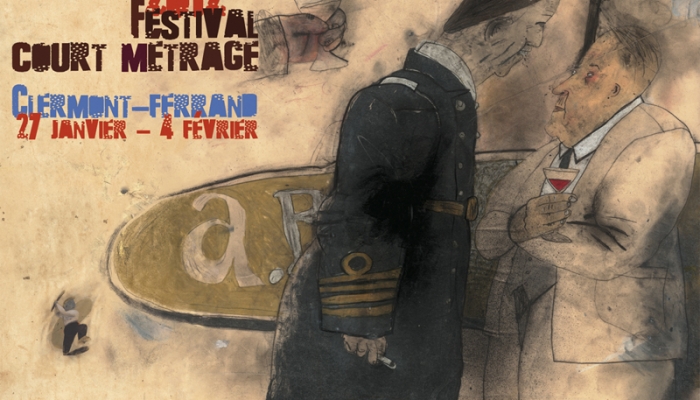 Croatian Audiovisual Centre presents Croatian Shorts at 34th Clermont-Ferrand Short Film Festival and Short Film Market 2012 (stand n.19, January 27 to February 4).
Two Croatian films will be a part of the 34th Clermont-Ferrand International Short Film Festival programme. Croatian animated short Dove sei, amor mio by Veljko Popović will be part of the INTERNATIONAL COMPETITION.
Dove sei, amor mio, awarded with Special Jury Mention in Sarajevo 2011 is the latest work by young and talented Croatian animator (and member of a late Croatian electro-punk band Leut Magnetik) Veljko Popović, whose previous animated short She who measures recieved FIPRESCI prize in Annecy in 2008. Popović's highly praised Clermont-Ferrand Competition entry is an animated portrait of a bizzare everyday routine in an old lady's life.
Animated film Lure , a short story about the sea, a man and a fish by Croatian illustrator and animator Dinko Kumanović (Zagreb Film) will be part of the SCHOOL AND CHILDREN programme. Please check the menu Croatian films in the Festival Programme for additional information on films as well as their screening schedule in Clermont-Ferrand.
Croatian Audiovisual Centre and its representatives will be present at the 27th SHORT FILM MARKET with the selection of recent Croatian short films. The Exhibition hall of the Clermont-Ferrand Short Film Market, the favoured place of exchange between delegates from all branches of short film production worldwide, will be open from January 30 to February 3 and you are welcome to visit us at stand n.19! Market registered Croatian shorts will be available for viewing at the MARKET VIDEOLIBRARY. For more information on selected films, please download HAVC's Clermont-Ferrand Catalogue.
Producer Zdenka Gold (Spiritus Movens) will be one of the pitchers at the 4th EURO CONNECTION 2012, European Short Film Co-production Forum. Gold's project is the short fiction film Ljubljana – Zagreb directed by Dario Varga and written by Natalija Manojlović. Check out the 17 selected projects from across Europe here.
The Clermont-Ferrand Short Film Festival is one of the world's premier cinema events dedicated to short films. It is the second largest film festival in France after Cannes in terms of audience and professional attendance. It is at the heart of many all-year-round activities and missions conducted from La Jetée by the collective team of Sauve qui peut le court métrage. Its permanent staff of 17 all live in the Auvergne region, where a lively environment has developed around filmmaking.