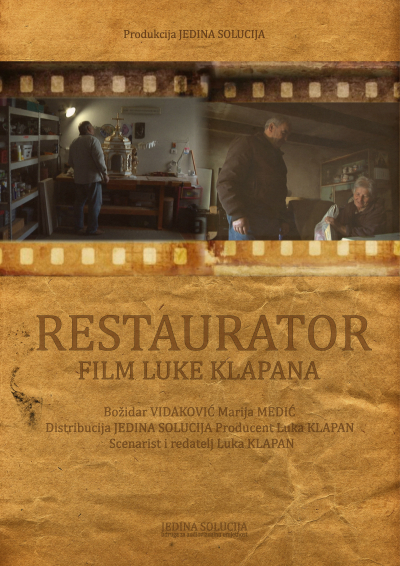 A long time ago, Božidar Vidaković left his large family in order to escape poverty and make a life for himself. He lived in New York for 40 years, where he worked for an Italian company that specialized in restoration of religious objects. After returning to his hometown, he has continued doing what he knows best – restoring objects in a local church.
Director

Luka Klapan

Screenplay

Luka Klapan

Cinematography

Luka Klapan

Editing

Luka Klapan

Sound Design

Luka Klapan

Producer

Luka Klapan

Production

Jedina solucija

Croatian Distribution

Jedina solucija
Luka Klapan (1970) is a painter and filmmaker. His documentaries address contemporary and ethnographic issues. His first experimental film, Dream, screened at the 18th Croatian Film Days. Since then he has made a number of short films which screened at international and Croatian festivals. He is currently shooting several documentaries about a local community.
Luka Klapan, filmography
Traces (2021) – documentary short
The Restorer (2021) – documentary short
Korlat (2020) – documentary middle-length
Sacrist (2018) – documentary short
In the Footsteps of Our Ancestors (2017) – documentary short
Shucking With Us (2014) – documentary short
Memory Keeper (2010) – documentary short
Hands of Stone (2009) – documentary short
While Her Feet Are Taking Her (2009) – fiction short
Friends (2009) – documentary short
Our Bread (2008) – documentary short
Dream (2008) – experimental short