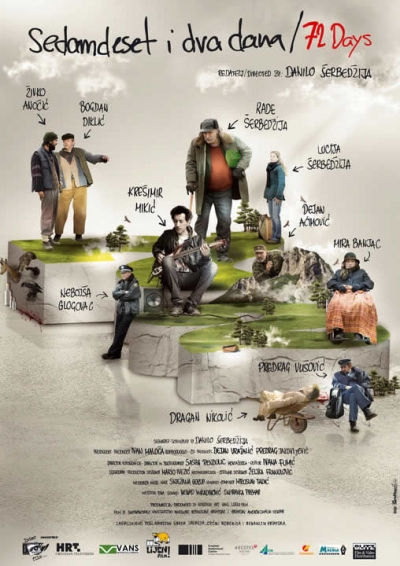 Grandpa Đurađ has departed this world but his American pension is still paid to his widow Neđa and is the only source of income for the Paripović family. When Neđa suddenly dies, the head of the family, Mane, devises a cunning plan to ensure that the family continues to receive the pension. Everyone is thrilled by the idea, apart from Mane's nephew Branko, whose only desire is to get away from his relatives as soon as he possibly can.
Director

Danilo Šerbedžija

Screenplay

Danilo Šerbedžija

Cinematography

Sasha Rendulic

Editing

Ivana Fumić

Production Design

Mario Ivezić

Costume Design

Željka Franulović

Music

Miroslav Tadić

Sound Design

Dubravka Premar, Ruben Albahari, Davor Omerza

Cast

Rade Šerbedžija, Krešimir Mikić, Bogdan Diklić, Živko Anočić

Producer

Ivan Maloča

Production

Interfilm

Co-producer

Dean Vražalić

Co-production

Vans (RS), Hrvatska radiotelevizija (HR), Lijeni film (HR)
Danilo Šerbedžija (1971) studied film at The School of Film, Ohio University of Athens, Ohio. He has a number of documentaries, award-winning shorts and music videos under his belt, as well as several tv sitcoms. 72 Days is his first feature film and boasts a strong ensemble cast, with some of the biggest ex-Yugoslav screen stars and Croatia's most promising acting talent.