7 seX 7
view in croatian
2011
87'
HD
color, black & white
erotic, drama
debut feature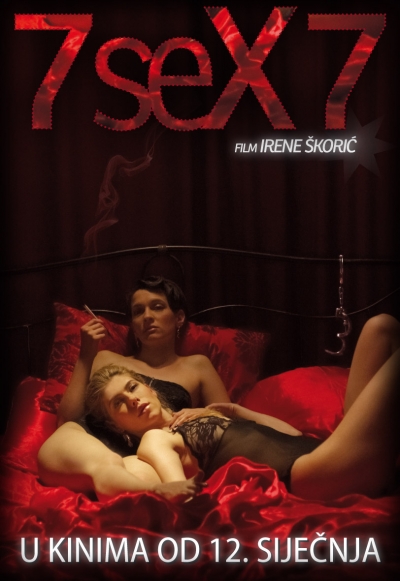 This film takes seven self-contained erotic stories and uses them to create a feature-length film, in accordance with Aristotle's dramatic principles of the unity of time, place and action, with a final reversal. The filmmaker creates a sort of modern Decameron from intimate moments in the lives of five heterosexual couples, as well as one female and one male homosexual couple. The voice of the erotic is the voice of the indirect; therefore the stories do not focus on explicit sex. Instead, the filmmaker explores the intriguing nature of human relations and captures the fleeting moments that communicates erotic tension so powerfully – in the same way that a hastily drawn sketch in a life drawing class can capture the essence of the model. These film narratives are impish, witty and bitter at the same time. The end result of their structure, style and expression is not a mosaic, but rather a unique movie entity.
Director

Irena Škorić

Screenplay

Irena Škorić

Cinematography

Darko Herič

Editing

Mislav Muretić

Production Design

Irena Škorić

Costume Design

Irena Škorić

Music

Berislav Šipuš

Sound Design

Ivica Drnić

Cast

Ana Majhenić, Robert Kurbaša, Jelena Perčin, Ivan Glowatzky, Frano Mašković, Csilla Barath Bastaić, Marinko Leš, Kristijan Ugrina, Asim Ugljen, Petra Težak, Mia Biondić, Ivan Đuričić, Sara Stanić, Jure Radnić, Jelena Jokić, Mario Kovač

Producer

Irena Škorić

Production

Artizana film
Irena Škorić graduated in film and tv directing from the Academy of Dramatic Art in Zagreb. She has directed over 30 award-winning short and mid-length documentary, fiction and experimental films. Her best-known short film Farewell (2008) won 38 national and international awards, including the Grand Prix at Days of Croatian Film in 2009.
Selected Filmography – Irena Škorić (1981)
Dear Lastan! (2014) – documentary feature
In Which File Should I Put My Heart (2013) – experimental short
I Love YU (2013) – fiction short
7 seX 7 (2011) – feature film
Farewell 2 (2011) – fiction short
Berislav S. The Trial (2010) – documentary feature
Screenplay for Ordinary Life (2010) – fiction short
The Destiny of Line 13 (2009) – documentary feature
Farewell (2008) – fiction short